&nbsp &nbsp &nbsp &nbsp &nbsp

Empress Manages Megabytes
&gt &gt Mississippi State University
Empress has been and continues to be a pioneer in the ability of RDBMS technology to store and retrieve bulk data types. In handling the requests for the megabytes of oceanographic and meteorological data from the Master Environment Library (MEL) archives at the Mississippi State University Center for Air Sea Technology (MSU CAST), the Empress RDBMS exemplifies its high-caliber reputation in the management of bulk data types.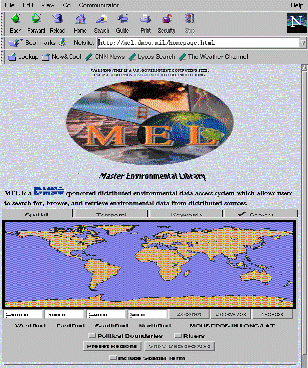 Internet-based MEL contains real-time, scenario, historical andclimatological datasets for simulations, mission planning and scene modeling. From a central MEL Internet access site, the Resource Site Software suite (RSS) receives customer orders for such datasets. RSS then schedules, processes and delivers the requested bulk data. Even though RSS is designed to interface with any data storage system, MSU CAST uses the Naval Environmental Operational Nowcast System (NEONS), driven by the Empress database engine.
NEONS is a data handling subsystem supporting a diverse set of data types. MSU CAST played a part in its development, under the leadership of the Naval Research Laboratory in 1992. Running on Sun and Silicon Graphics operating systems, applications are constructed for NEONS via embedded Empress SQL within C code.
NEONS is now used worldwide. MSU CAST examined different databases in relation to their binary data handling capabilities. In the final outcome, MSU CAST chose Empress.
&quot We use Empress because of its ease and speed in which it handles bulk data.&quot
&quot Most of our data are large datasets of 10 MB - 100 MB in size.&quot
-Clifton Abbott
MSU CAST Software Engineer
MSU CAST also looked into Oracle while researching possible databases for NEONS. However, Abbott concluded, &quot In our applications, it doesn't handle big-bulk data as well.&quot
Utilizing Empress as an application development software component of NEONS, MSU CAST aided the Defense Modeling and Simulation Office in making MEL the vital Internet resource site that it is today. MEL has been able to provide one integrated site where researchers can locate environmental data encompassing anything from gridded (matrix) numerical model outputs to complex satellite images.
Moreover, MEL gives Empress an opportunity to do one of the things it does best: handle a variety of data types with ease and speed.