&nbsp &nbsp &nbsp &nbsp &nbsp

SMI Speeds Up Data Delivery
&gt &gt Swiss Meteorological Institute(SMI)
The growing presence of Java-based technology in the IT field is not surprising to anyone in the industry. The benefits Java offers are numerous. For example, Java servlets are gaining widespread use because of their persistent nature. This makes them faster by eliminating the wasted time incurred by repeatedly creating and tearing down the same, frequently-executed programs.
The Swiss Meteorological Institutes (SMI) has taken advantage of such Java platform capabilities. SMI uses Empress products such as Empress RDBMS, the Empress ODBC Interface and the new Empress JDBC Interface to operate a system which manages all types of weather data. The application runs mainly on Solaris 2.5x on Sun Ultra workstations and Sun Enterprise Servers.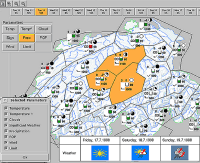 The decision to use the Empress JDBC Driver by SMI was based on their application's need for speed. When SMI realized that the former JDBC-ODBC bridge product they were using could not handle the large volume of text, graphical and symbol series data that they processed every day, they knew they needed another alternative. Pleased with their past success with Empress, they looked to one of Empress's newest products: the Empress JDBC Interface.
Via the use of Java servlets, SMI's application, called metAP (Meterologisher Arbeitsplatz), will provide areas in Switzerland with up-to-date information. Currently, the application is operational with a file system base. It will be ready for employment with the Empress JDBC Interface upon the completion of final testing.
&quot We believe that the fast access to Empress databases that the Empress JDBC Interface provides will consistently deliver data within the customer's time-sensitive windows.&quot
&quot We could not hope to achieve such speed before the implementation of Empress's JDBC Interface.&quot
-Christian Pauli
Project Manager
SMI
MetAP handles tables, simple maps and charts of data gathered from meteorological networks consisting of a hundred stations. Seventy weather parameters such as temperature and precipitation figures are gathered and updated in 10 minute intervals.
The sets of data delivered to a specific end-user have to be tailor-made according to factors such as region and time. With this information, forecasters can create forecasts from chosen criteria. But most importantly, they are assured of receiving the information they want when they need it.