&nbsp &nbsp &nbsp &nbsp &nbsp

Empress Focuses on the Internet
&gt &gt Pivot Technologies
Sound evaluation of choices is what takes a software developer's great idea from an abstract vision to a valuable product. For Pivot Technologies, the choice to use the Empress RDBMS for its commercially available sales automation software consisted of several factors.
The application, called Focus, provides a graphical user interface for a client Web browser which accesses the Empress database over a network.
Focus not only references salespeople, current leads and current customers, but also incorporates a wealth of other capabilities. It can track the evolution of sales opportunities from leads to customers, classify opportunities based on a company's own methodology and track information about competitor's activities during the sales cycle.
In addition, users can create and track &quot To Do&quot lists. They can also attach email messages and documents created with word processing, spreadsheet and other office-type software directly to sales opportunities. Plus, automatically generated email messages or digital pages can be received when information in a specified account is altered.
Moreover, Focus provides one comprehensive location for viewing data about all sales opportunities. This enables a unified sales effort that effectively involves all relevant internal company staff members.
For bringing Focus to life, Pivot chose to use the Empress RDBMS and the Empress Hypermedia V3.0 Toolkit, Empress's Internet Application Development Toolkit. Developers of Focus are familiar with the Empress RDBMS and have more than five years of experience with it.
Other factors that lead to Pivot's choice of Empress include the fact that Empress operates on a variety of platforms. Focus is currently available on Sun's Solaris Operating System (SPARC and Intel), but Pivot plans to port Focus to other platforms. The low cost of Empress is also important. Pivot needed a competitive price point to make Focus an affordable, integrated solution for small and midsize companies.
Pivot Director of Product Development, Jim Miller, values the ease of use Empress provides.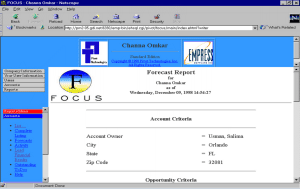 &nbsp
&quot Even though Empress is a fully functional RDBMS, it does not take a senior database administrator to manage it. Empress's ease of use dispels the notion that a fully equipped RDBMS must also be complex.&quot
- Jim Miller
Director of Product Development
Miller also cited that the quality and level of the technical support Pivot received from Empress during development confirmed the decision to use Empress as a core technology of Focus.
With the use of the Empress RDBMS, the Focus application is able to provide a concrete solution for any company seeking a more efficient, time saving and organized way to perform sales automation functions either at the office or on the road. The Focus server requires either a Sun SPARC server or a PC using Solaris 2.6 / 7 for the Intel platform. The only requirement for the client is a web browser.
More information about Focus and Pivot Technologies is available at www.pivotinc.com